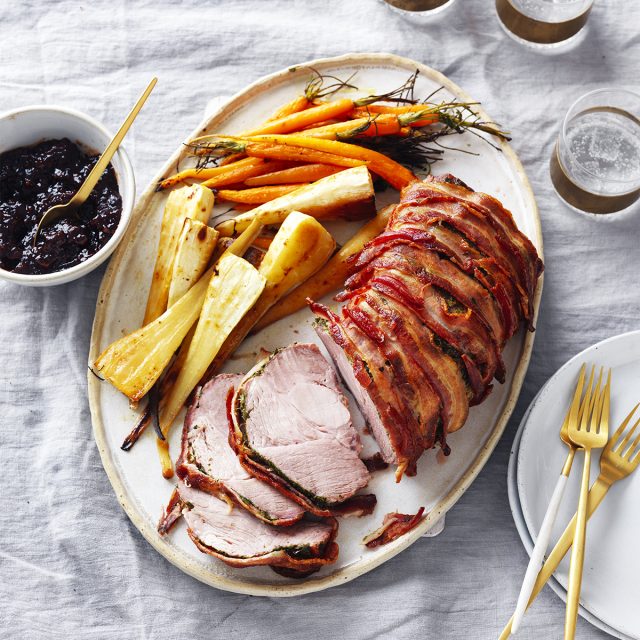 Bacon-wrapped pork scotch roast with roasted veggies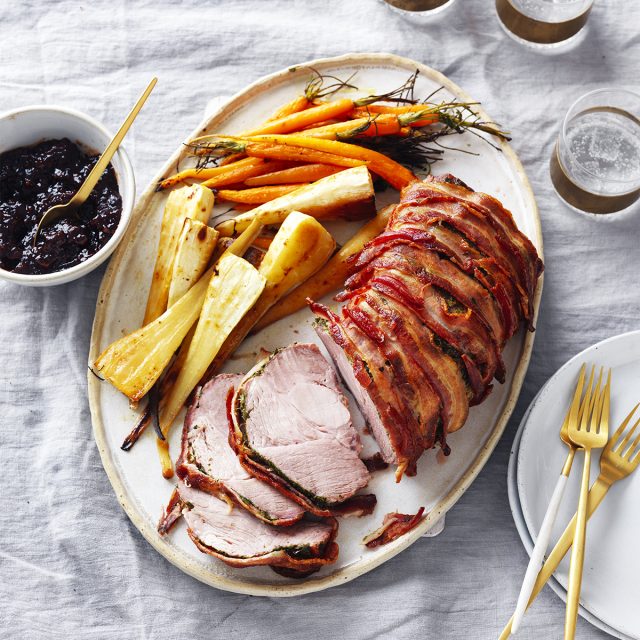 Prep time
25 minutes
Cook time
1 hour 30 minutes
Ingredients
•

1 lemon, finely grated rind and juice

•

1/3 cup olive oil

•

1/3 cup finely chopped flat-leaf parsley

•

1 garlic clove, crushed

•

1.5kg pork scotch roast

•

250g Australian streaky bacon rashers, rind removed

•

5 baby parsnips, peeled and halved lengthways

•

2 bunches baby carrots, trimmed

•

fruit chutney, to serve
Method
1.

Preheat oven to 180°C (conventional oven).

2.

Combine lemon rind, lemon juice, 2 tablespoons oil, parsley and garlic in a bowl. Brush lemon mixture over pork.

3.

Place bacon rashers crossways along the length of pork. Season with pepper.

4.

Place pork into a large roasting pan lined with baking paper. Roast for 30 minutes.

5.

Combine parsnips and carrots in a large bowl. Add remaining oil and toss until combined. Season.

6.

Place vegetables around pork and roast for 50-60 minutes or until bacon is golden and crisp and pork is cooked through.

7.

Slice pork. Drizzle with warmed pan juices if liked. Serve with roasted vegetables and fruit chutney.