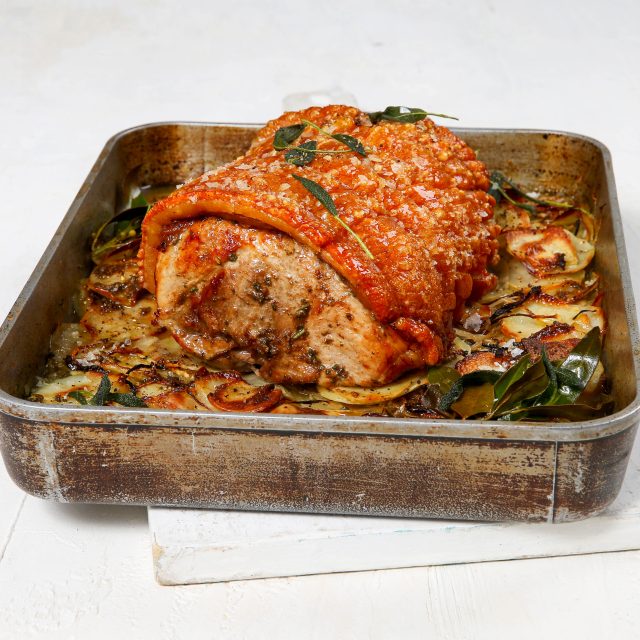 Colin Fassnidge's Pork Leg Roast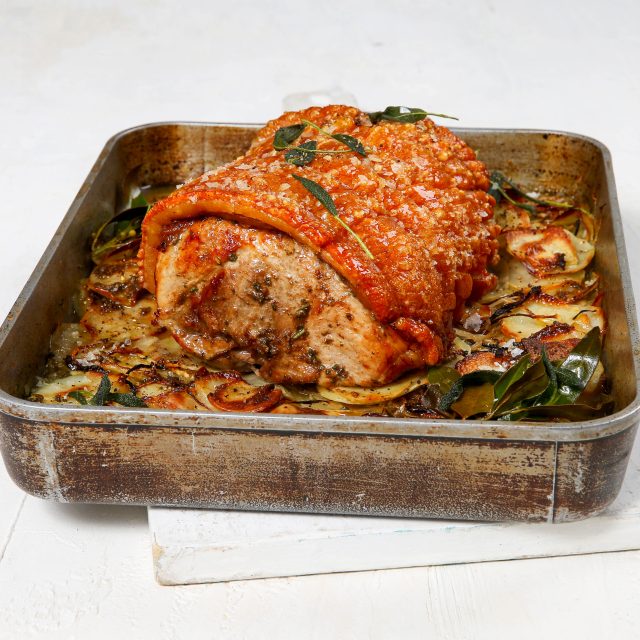 Prep time
30 minutes
Cook time
1 hour 30 minutes
Colin's perfect pork roast.
Ingredients
•

Rolled and tied skin on pork leg - 1.5 to 2 kilograms
Marinade
•

2 cloves garlic – peeled

•

Sprigs from bunch sage – leaves kept aside

•

½ teaspoon cinnamon

•

½ teaspoon ground coriander

•

½ teaspoon ginger powder

•

100ml olive oil
Potatoes
•

5 medium size desiree potatoes - finely sliced

•

2 white onions peeled and finely sliced

•

6 cloves garlic - roughly chopped

•

1 bunch sage leaves – chopped (sprigs used in marinade)

•

1 bulb fennel finely sliced

•

100ml olive oil

•

300ml chicken stock

•

2 bay leaves

•

Salt and pepper to season
Method
1.

If time allows, to get the best crackling, leave the pork in your fridge uncovered for 24-48 hours to dry out.

2.

For the marinade, place all the ingredients in a small food processor & whiz until a rough paste. Rub on the flesh side of the pork, leaving the crackling clean. Marinate overnight if possible.

3.

Preheat oven to 200°C fan forced (220°C conventional).

4.

In a large bowl add all the potato ingredients, apart from the chicken stock & give a good mix through.

5.

Evenly layer potato mix, covering the base of a medium sized roasting tray.

6.

Pour the chicken stock over the potato mix.

7.

Place the marinated pork on top of the potato boulangère. Spread a little excess marinade over the potatoes.

8.

Place in oven for 20 mins or until the pork has started to crackle.

9.

Reduce temperature to 160°C for a further 25-30 mins or until centre of pork is 58°C.

10.

Remove pork and rest. Place potato bake back in the oven for a further 20-25 mins or until golden on top & cooked.

11.

Slice rested pork. Serve sliced on top of potato, seasoned with salt & pepper.
General Information
Colin's Crackling Tip: Not perfectly crackled? Place the un-crackled skin side down in a frying pan with hot oil, until crunchy and golden.