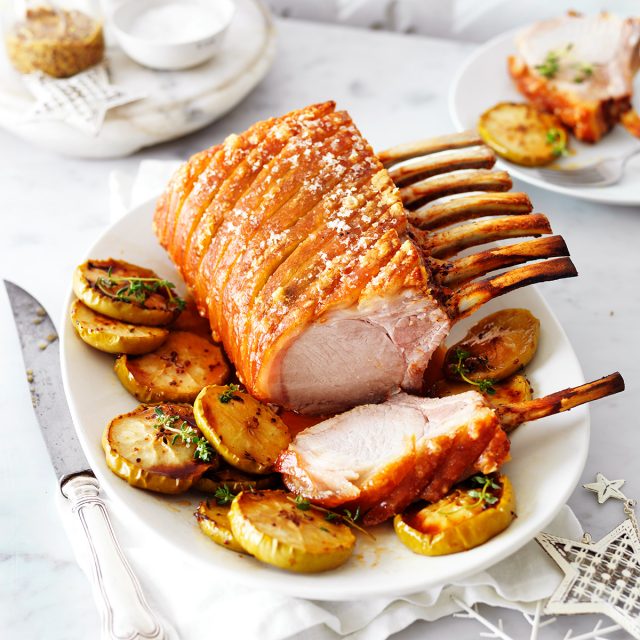 Crackled pork rack with roasted maple apples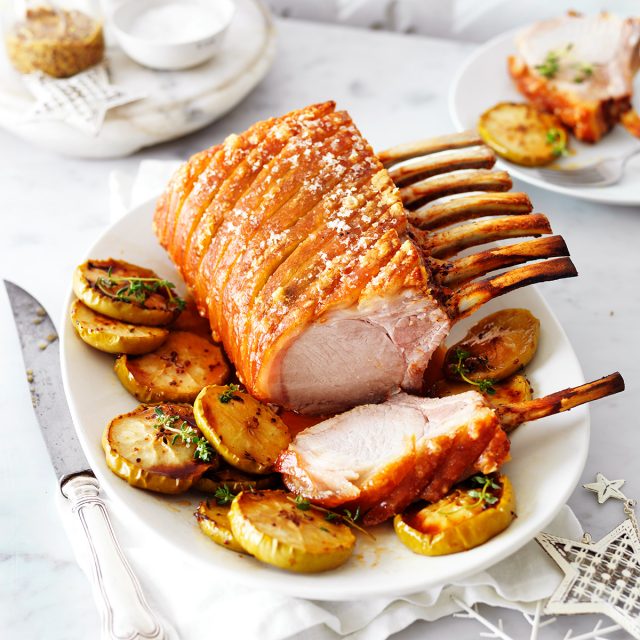 Prep time
20 minutes
Cook time
1 hour 20 minutes
Ingredients
•

8 rib (about 2.5kg) rack of pork

•

1 tablespoon olive oil

•

2 teaspoons sea salt

•

5 medium Granny Smith apples, thickly sliced

•

1/3 cup maple syrup

•

2 teaspoons wholegrain mustard

•

3-4 sprigs fresh thyme (plus a few sprigs extra to serve)

•

Olive oil cooking spray
Method
1.

Preheat oven to 240˚C/220˚C fan-forced. Cover the exposed bones with foil. Using a sharp knife, score pork rind at 1-2cm intervals. Rub rind with oil then rub with the salt

2.

Place pork onto a greased rack in a baking pan lined with baking paper. Roast pork for 35-40 minutes or until rind is golden and crisp. Reduce heat to 180˚C/160˚C fan-forced and roast for a further 1 hour to 1 hour 10 minutes or until pork juices run clear.

3.

Place apples on a baking tray lined with baking paper. Combine maple syrup and mustard in a bowl. Season with salt and pepper. Brush mixture over apples. Add thyme to pan then spray with oil. Roast apples, basting with pan juices occasionally, for 45-50 minutes or until just tender

4.

Remove pork from the oven, cover with foil and rest for 10 minutes. While the pork is resting, turn the oven grill to high and place apples under the hot grill and grill for 1-2 minutes until golden.

5.

Slice pork and serve with the roasted maple apples sprinkled with a few sprigs of extra thyme.
General Information
Note: For extra crisp pork crackling, the day before you cook the pork, place it rind side up, uncovered on a rack in the fridge and leave it overnight.  Stand for 20 minutes at room temperature and dry with paper towel before roasting. This recipe is perfect for Christmas day.