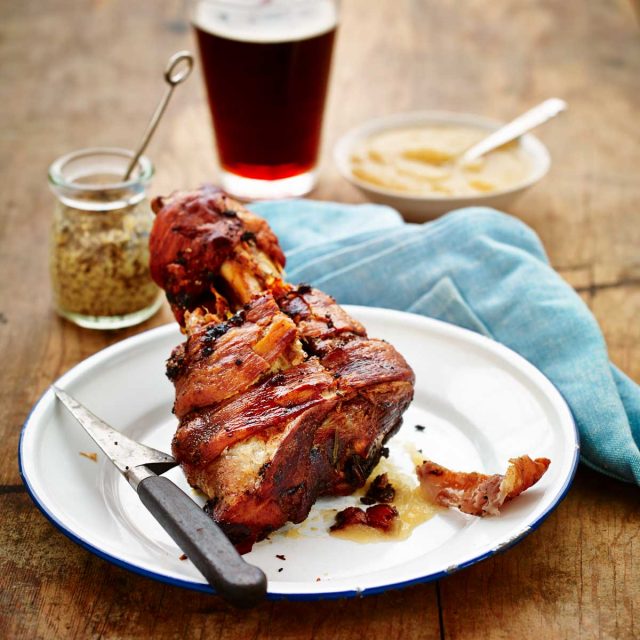 German style roasted pork hock with crackling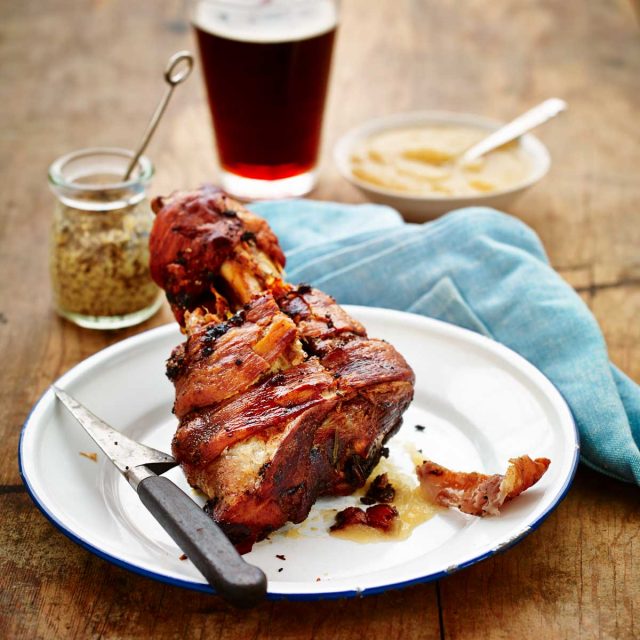 Prep time
15 minutes
Cook time
5 hours
Ingredients
•

4 forequarter pork hocks

•

4 tablespoons olive oil

•

4 cloves garlic, finely chopped

•

1 tablespoon fresh thyme

•

2 tablespoons fresh rosemary leaves

•

2 tablespoons mustard powder

•

½ teaspoon salt

•

Cracked black pepper

•

2 onions, finely chopped

•

2 stalks of celery, finely chopped

•

2 carrots, peeled and finely chopped

•

2 bay leaves, cracked

•

600ml dark ale or apple cider

•

500ml chicken stock
To serve
•

1 cup apple sauce

•

Seeded mustard
Method
1.

Preheat oven to 220°C.

2.

Score the pork hock rind into 3 sections across the width of the hock with a sharp Stanley knife.

3.

Blend the oil, garlic, herbs, mustard and salt and pepper together to form a paste.

4.

Rub each hock generously with the paste.

5.

Place the prepared vegetables and hock into an ovenproof baking dish.

6.

Pour the beer or cider and chicken stock over the pork into the baking dish.

7.

Place the baking dish into the preheated oven for 20 minutes, then reduce the oven temperature to 160°C for 4 ½ hours. If the liquid needs to be topped up, add a little water from time to time.

8.

Serve crispy roasted German style pork hock with apple sauce and seeded mustard on an individual platter with dark ale or apple cider.