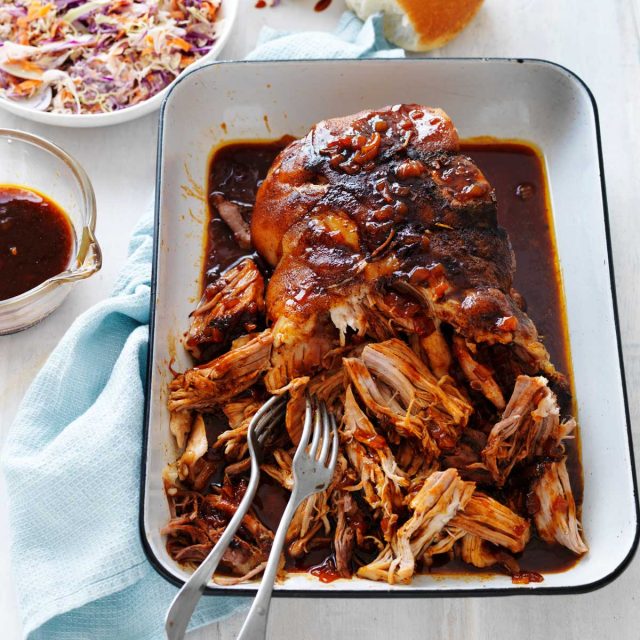 Jamaican-flavoured pulled pork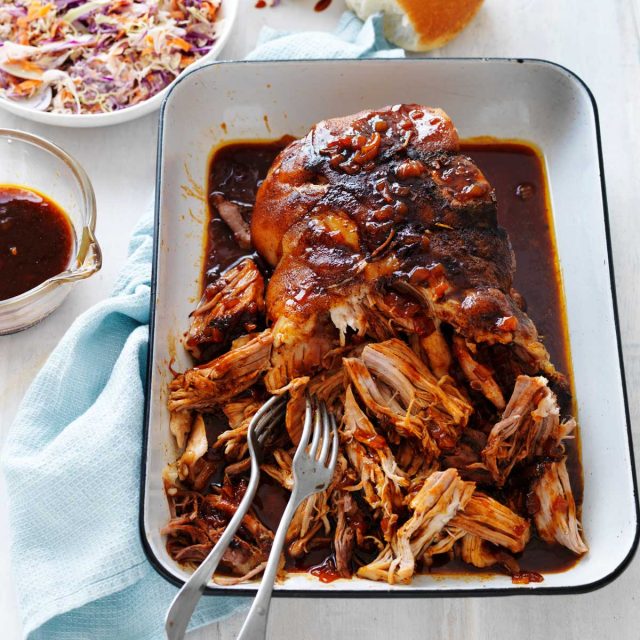 Prep time
15 minutes
Cook time
3 hours 40 minutes
Ingredients
•

1.8 kg bone-in shoulder of pork, rind removed

•

1 ½ cups salt reduced chicken stock

•

½ cup barbecue sauce

•

½ cup firmly-packed brown sugar

•

1 brown onion, roughly chopped

•

Bread rolls and coleslaw, to serve
Jamaican rub
•

2 tablespoons brown sugar

•

2 teaspoons ground coriander

•

2 teaspoons sea salt flakes

•

1 teaspoon allspice

•

1 teaspoon ground ginger

•

½ teaspoon cayenne pepper

•

½ teaspoon ground cinnamon
Method
1.

Preheat oven to 160˚C/140˚C fan-forced. Place pork into a roasting pan. To make rub, combine all ingredients in a bowl and mix until combined. Sprinkle rub over pork and gently rub into the flesh.

2.

Combine stock, barbecue sauce, sugar and onion in a bowl. Pour mixture around the pork. Cover with a sheet of baking paper and cover tightly with foil. Bake for 3 ½ hours or until pork is very tender.

3.

Transfer pork to a plate. Place roasting pan onto a high heat. Bring barbecue sauce mixture to the boil. Reduce heat to medium and simmer for 8-10 minutes until thickened.

4.

Using 2 forks, shred pork and place into bowl, drizzle over the reduced barbecue sauce mixture. Toss until combined. Serve pulled pork in bread rolls with coleslaw.