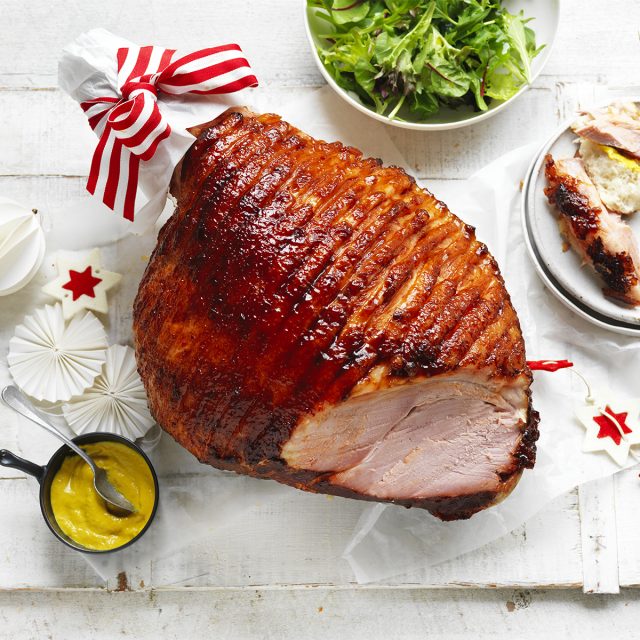 Sticky & Spicy American Mustard Glazed Ham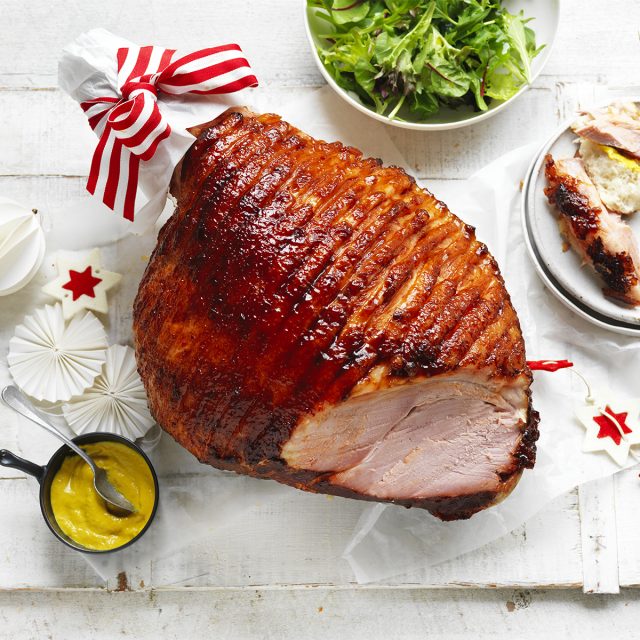 Prep time
30 minutes
Cook time
1 hour 15 minutes
Ingredients
•

1 x 8-10 kg Australian ham leg, rind removed

•

American mustard and a leafy green salad, to serve
Sticky & spicy American mustard glaze
•

1 ½ cups firmly-packed brown sugar

•

½ cup tomato sauce

•

2 tablespoons American mustard

•

2 tablespoons Worcestershire sauce

•

2 tablespoons chipotle chillies in adobe sauce, finely chopped (see tips in 'General Information' tab)

•

1 teaspoon celery salt

•

1 teaspoon smoked paprika
Method
1.

Preheat oven to 180°C/160°C fan-forced. Meanwhile, using a sharp knife or Stanley knife, score the ham fat (not the flesh) at 1cm intervals. Wrap the hock in foil (this prevents it from burning).

2.

Place ham on a greased rack in a large baking pan lined with foil (see tip in 'General Information' tab).

3.

To make the glaze, combine all ingredients in a medium saucepan. Bring to the boil, stirring, over medium heat. Reduce heat and simmer, stirring occasionally, for 8-10 minutes until thickened.

4.

Brush the ham fat a few times to evenly coat with the glaze. Roast for 45-50 minutes, brushing with remaining glaze once, or until ham is golden and caramelised. Set aside to cool for 30 minutes.

5.

Slice and serve warm or cold with American mustard and a leafy green salad.
General Information
Tips

For ease, use a large disposable foil roasting pan and place on a large baking tray.

Canned chipotle chillies in adobe sauce adds a spicy, smoky flavour to the glaze, they are available from large supermarkets.  If you prefer a less-spicy flavoured glaze, leave these out of the recipe.